A quick Meow-out Thank You to: nitecruzr and remoonline from the Blogger forum help. We're grateful for all the help we can meowuster. We Kittehs can be rather 'dim' when it comes to all this technical know how... or in our case... 'Not much' know how.
Aside from our lack of 'thumbs', our paws can get in our own way... along with our Furry brains.
We'll get to the bottom of our Blogger issues, once we've had our 16 hours of napping in the south sunpuddle, or when we've mowed down the fresh CatNip in the east window. Our nine lives are fur too short to furett about technical difficulties. We'll shake it off with some relaxing Kitteh Tai Chi.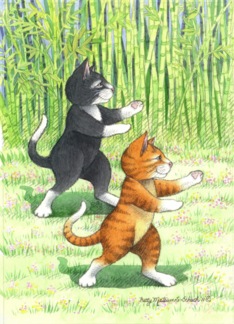 Tai Chi for Kitteh stress relief.